Pamper, AC Casino, BetDna. Pirated games... again.
Last week we received an email from an user who opened an account at Pamper Casino and lost and won in it a considerable amount of money. Failing in all reasonable ways to obtain his legit winnings, he sent us his email looking for help.
Let us quote a small excerpt:
---
[omissis]
"... not only they do not answer to my requests about MY MONEY but also the games seem to me "weird" especially those Playtech and Novomatic, that I love ..."
[omissis]
...I was reading on your blog that other online casinos are using the same trick . If you could check those games you would do me a favor, I don't know how to do it...
[omissis]
---
So, we went to check and an accurate inspection has confirmed the suspicion: Novomatic, Netent and Playtech games are not legit.
The (pirated) games are presented in all three casinos in plain sight:
If you try to open a game, you will notice that the loader is the same for all the software providers (with a very reassuring overlay...):
When the loading animation has finished (funds gone?), the browser redirects to the game but as you can see...
Case 1, Novomatic's "Safari Heat Classic":
Case 2, Playtech's "Sopranos":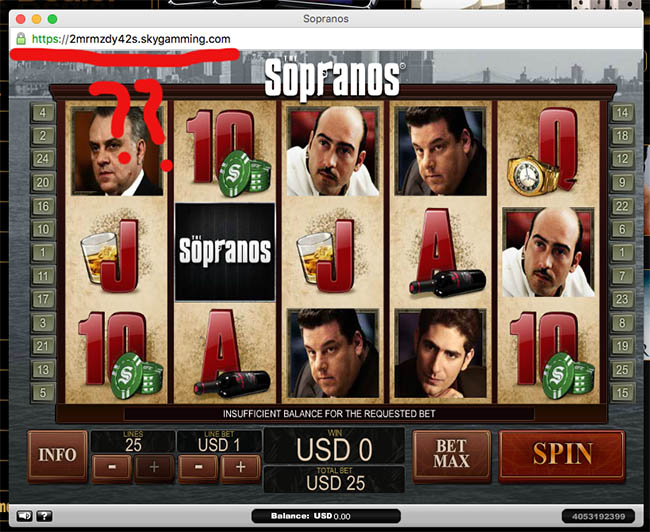 Case 3, NetEnt's "Dracula":
We went to check the source code too and the code speaks for itself:
We got confirmation from one of the mentioned supplier that "these games are not authorized nor legit". Since these games are all hosted on the same server (address: skygamming [dot] com) and since all casinos of CAN Group use the same trick, all games by NetEnt, Novomatic and Playtech at Pamper, AC, Money Storm and BetDNA are "purely fake".
Pamper Casino, AC Casino, Money Storm and BetDNA are blacklisted at FreeExtraChips. Avoid them at all costs.
Additional source
ThePOGG: http://thepogg.com/complaint/pamper-payment-delayed/