Pirated Software, chapter two: Futuriti Casino caught using ripped-off slots
After Triomphe, another one falls into the trap of pirated software. Today's episode is completely dedicated to "Futuriti Casino and its legitimate software as €2 (two euros) banknote" (folks coming from Europe know what I mean... for others we might say "as a 10 cents banknote"... or adapt it into your currency).
After inpunts received from LatestCasinoBonuses.com guys, we have taken too the trouble to re-check online casinos in our database. We went, then, to catch a few little fishes that lately has had some "strange behaviors" towards players (we got tons of complaints via email).
We knocked on the Futuriti's door, we sat down and we started playing. At a first glance everithing seemed in perfec order. The first slot we tried was a BetSoft Gaming one, the new "Birds".
We looked deeply , we did some tests, we looked at the source of the game and it was all ok: the game is served under its natural host, betsoftgaming.com (legit host). Same for another BetSoft slot, Good Girl - Bad Girl. So, nothing to say here.
Then, we tested a Novomatic one: Book of Ra 6 - Deluxe. Same as above: at a first glance everithing looks ok. We looked deeply, tests and... source code, first "suspect". We opened the url in another window of the browser and a "strange" host popped out, flash.shubnako.com. What the hell is this? We know that this game is served under the Greentube's hosts and it should be *clientname*.greentube.com.mt (something similar from a legit casino, Quasar Gaming: hxxps://nrgs-b2b.greentube.com.mt/xxxxxxxxx/xxxxxxxxxx). Looks similar? Hell, no! Ok. So? Simple: FAKE!
A screenshot from the legit Quasar Gaming: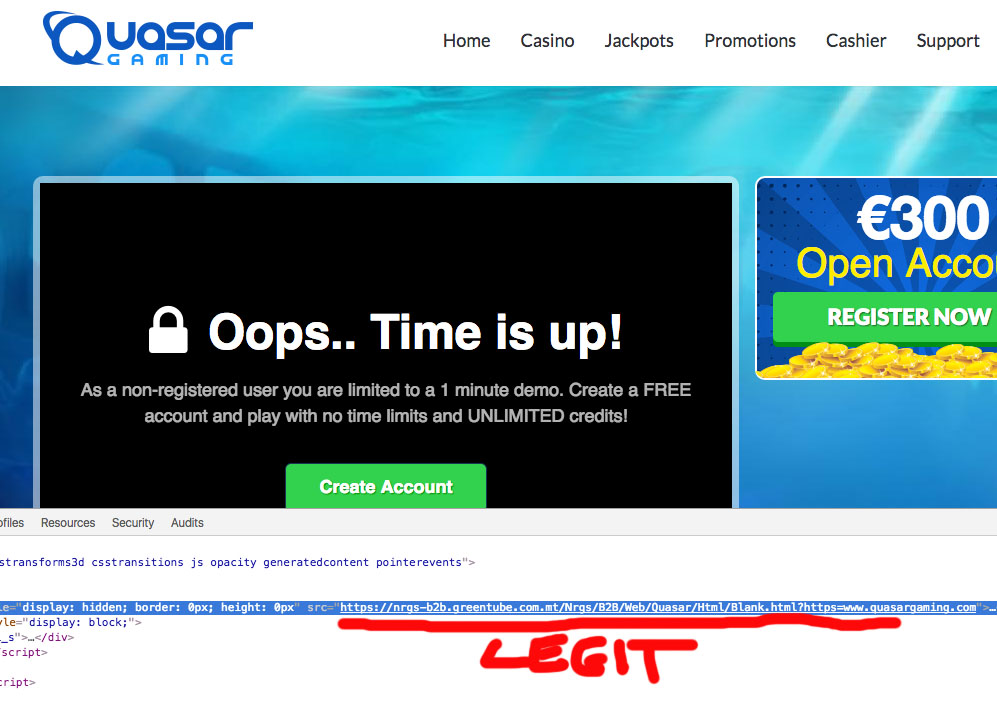 ​
A screenshot from Futuriti: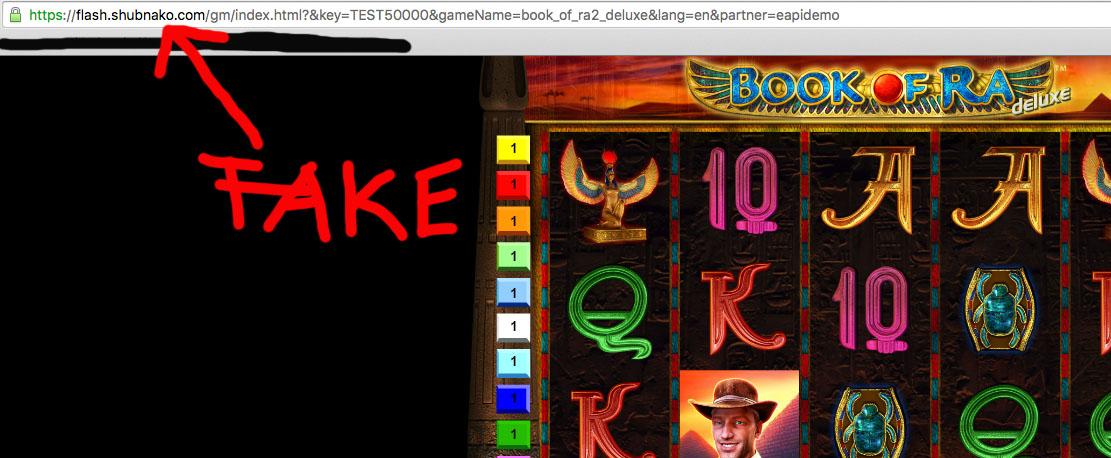 ​
How this "kind of trick" works
The page of the game looks legit. If you open the source code, searching for the embedded game you can find this url:
https://futuriticasino.cc/en/index/game/name/book_of_ra2_deluxe/provider/ggs/demo/yes
Try to copy and paste it on a browser. Press "enter" or "go button" on the browser. You will see a page with a pop-up saying "Continue" or "Play for Real". Click on "Continue". You will be redirected "silently" here (on both cases, no matter if you click "Play for Real" or "Continue"):
https://flash.shubnako.com/gm/index.html?&key=TEST50000&gameName=book_of_ra2_deluxe&lang=en&partner=eapidemo
This is the page embedded. The fake game.
Judge yourself and keep in mind that both "demo mode games" or "real money games" have to be hosted exclusively on servers of their respective owners (NetEnt, Greentube - Novomatic - etc ... ) not only for the intellectual property: every software provider has its own settings on each game (Return to Players, winning lines settings, max & minimum bets, betting limits and so on) and no one should alterate them in any way! Now, just think... if a game is hosted on a "private server"... what can they do with such settings? Simply terrible...
We tested also games from Igrosoft. Same. Same "strange" server.
In other word, try to stay away from them. Futuriti casino is now and indefinitely blacklisted.