New Additions in Evolution's Football Studio Series – Dice and Roulette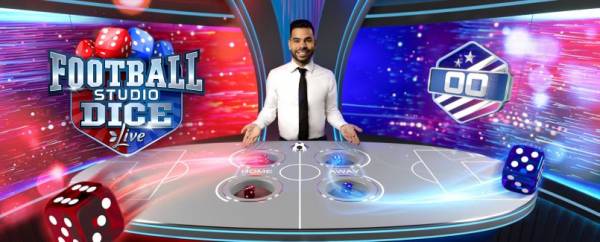 One fun way players can combine their passion for sports and online casino games is with Evolution's Football Studio series. Both Football Studio Dice and Football Studio Roulette have just been launched in time for arguably the most thrilling FIFA World Cup 2022 games. The games are based on existing Evolution live casino games and are already available on some of the biggest sites like Unibet and LeoVegas. They will be released across more Evolution casinos on the 10th of December. Here's very briefly what you need to know.
Football Studio Dice is tied to Evolution's tried and tested Football Studio series that first appeared as a card game, which you'll also find under the Game Shows tab in their refreshed lobby. Like Evolution's Asian-themed Bac Bo live game, FS Dice it's largely based on Dragon Tiger and Baccarat, making it a very simple game to play by anyone. And if you like simple card games, you might be interested in the new Dead or Alive Saloon too!
Unlike Lightning Dice, which is played with three dice, special lightning multipliers and many more bet options that offer much higher winning chances of up to 1,000x, Football Studio Dice is played with four dice and a game presenter whom anyone can chat with. The game is streamed from a dedicated football-themed physical studio, which, by the way, in the US would be for American football. Like the original game in the series, Football Studio Dice will follow different football games, including the ongoing World Cup, Premier League, Bundesliga, and Super Bowl when the US version comes out, only to name a few.
Football Studio Dice has two dice shakers, two for the Home side and two for the Away side. The top two dice represent the First half, which is revealed first, and the bottom two stand for the Second half, which is revealed last. Bet anywhere between 0.50 to 10,000 credits per game, on Home, Away or Draw and win as follows:
Home pays 1:1 (80% returned if Draw wins)
Away pays 1:1 (80% returned if Draw wins)
Draw result total 12 pays 79:1
Draw result total 2—11 pays 7:1.
For reference, a Tie bet in Evolution Bac Bo pays up to 88:1, partly because there are more possible payouts for Draw wins, including a mere 4:1. In Dragon Tiger, a Tie win pays 11:1 or 50:1 for a Suited Tie win.
The Return to Player (RTP) in Football Studio Dice is as follows:
Home/Away – 97.75%
Draw – 95.68%.
Evolution's second new Football Studio live game that comes out at the same time and shares much of the same thematic elements is Football Studio Roulette. It's based on European Roulette with a single zero and has an equally sporty studio with a chatty live presenter and different featured football leagues. The roulette has an RTP of 97.30%. You'll find it in the live casino lobby under the new games and roulette tabs.