Mega Fortune Dreams and Joker Millions Award Over €10 Million During Holidays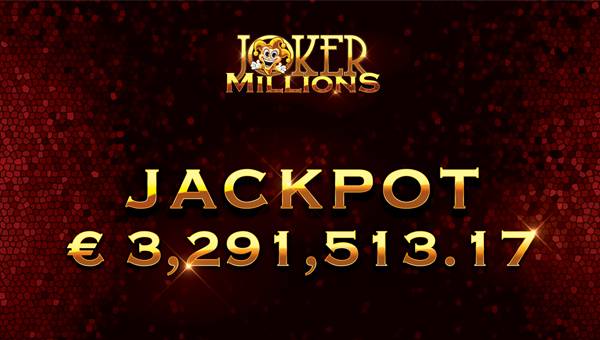 Two more players have become millionaires in a week's time thanks to NetEnt and Yggdrasil slots. Here's how it all happened at a glance.
As NetEnt is expanding to new markets, including Mexico, Portugal and Bulgaria, more and more players can get their hands on one of their fixed or progressive jackpot slots. This includes the brand new ones like Secrets of Christmas and Warlords: Crystals of Power, as well as modern classics, like Mega Fortune Dreams. More players should result in more frequent jackpot wins, which seems to hold true based on the following holiday news.
On 27th December, NetEnt published a success story about their new jackpot winner, who scooped €7,437,199.55 while playing at the ever popular BGO online casino. The Mega Jackpot was triggered on mobile by a UK player, who was betting only £1.25 per spin. All he could say was: "When I saw the amount that I had won, I was in complete shock and disbelief, so wasn't sure how to react. The win is life changing for me and my family and given us security for the future. First thing that we will enjoy with the win, will be a nice family holiday to Disneyland that my kids will enjoy."
Mind you that just a month ago, a 62-year-old player from Sweden won an equally impressive jackpot of €4,019,671, while playing the same video slot. Overall, the Mega Fortune Dreams slot pays out on average every 8 weeks, no less than €3.6 million. However, if you're looking to add some variety, then consider adding this game to your arsenal as well.
The fast-growing games developer, Yggdrasil Gaming has made history with their progressive jackpot slot as well. The news came through on 23rd December, when a lucky player at the Sunny Player casino hit the jackpot worth €3,291,513, when making the most out of the Joker Millions slot machine. It's the 4th big jackpot win that the game has awarded since it came out in April, 2015.
While we don't know who's the winner nor what he or she is going to do with this life-changing amount, Fredrik Elmqvist, CEO at Yggdrasil Gaming, had this to say: "We are thrilled to see a player win such a life changing sum of money, especially this close to Christmas and while playing one of our slots games."
As the Joker game becomes more popular by the day, so is the jackpot hotter than ever before. To recap, it triggered €720,000 in September 2015, €460,052 in December 2015, and then a whopping €2.881.257, in July 2016. If all goes well, the next lucky winner should be created within the next quarter.
That said, how often do you play Mega Fortune slots or Yggdrasil's Joker Millions?