Football Champions Cup: another masterpiece by NetEnt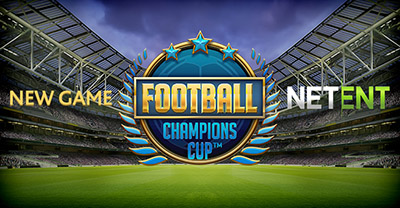 NetEnt beats it again, now pleasing football lovers who can`t wait for the upcoming 2016 UEFA European Championship. Released on 23 March 2016, this game will definitely warm you up before the major football event of the year.
Design
The look of the overall game design is performed in a classic NetEnt style. The gameplay is accompanied with the sounds of the crowd. The main purpose is to recreate the thrill and atmosphere of the real football stadium. Playable on all devices from smartphones to PC`s, this game is best looking football themed slot machine in the industry. The slot field consists of 5 reels and 20 paylines with symbols on the reels including cups, footballs, boots, gloves and shirts.
Gameplay
The game starts with choosing a country. If your country is not represented with a flag or you just don`t know what to choose, you can click a random button to let the game do the choice for you. Once the choice is done, you go directly to the game itself. Here you can set a bet size, that may vary in between 20 cents and up to 100€ per spin. The location of the buttons may look familiar because it is widely used among other NetEnt slot machines. The original part of the game lies in the bonus rounds and extra features, which, traditionally, are exclusive and surprising.
Bonus rounds
The Champions Cup slot has 2 major bonus rounds: Click me bonus round and Free Spins Tournament.
Landing 3 or more football bonus symbols will activate a Click me bonus round. Here you'll be involved in some thrilling penalty shooting performed in a pick-and-click way. Firstly, you`ll play as a football forward. Your task will be to score a goal in the opposing team gates by picking a corner to shoot. If your attack is successful, your team will score a point. After that, you`ll need to play as a goalkeeper, where you will be supposed to choose a corner to protect from opposing team ball. If you manage to score a goal and keep your gate safe, the multiplier on your winnings will grow and the round will be repeated. Overall, this round can end up with the generous cash prizes.
Landing 3 or more free spin symbols will activate a free spin round, which is something you`ve probably haven`t seen before. Once activated, you`ll find yourself at football tournament chart. Starting from 1/16, each spin will bring you closer to the Golden, Silver or Bronze Cup. All you need is to score more than the opposing team during a spin round. Each round consists of 6 free spins – wilds and Scoring Wilds (Blue and Red ones) appear on the reels which will give you or your opponent goals. Blue wilds landing on reels 1 and 2 will give your team a goal whilst Red wilds landing on reels 4 and 5 give your opponent a goal. The first team to score 7 points moves forward in the tournament chart. Winning the free spin tournament will bring you a cash prize to math your champion title.
What do we think?
Champions Cup slot game is indeed the best football themed game in the industry. Perfectly timed it is not just a regular slot game. NetEnt takes it very serious when it when it comes to creating the entertaining product. Bonus rounds and extra features are something that makes the games of this provider to stand out in the massive and competitive slot environment. You can see a careful work and attention to details through each NetEnt game.
Where to play
The game will be release on every NetEnt casino on the web, but there is one, that has the bonus program aimed on offering the best slot experience. 7Bit Casino is one of the most trusted online casinos on the market, beats it on every casino rating and is even awarded with a lot of prizes and proofs of fairness. The house offers 100% match bonus for the first deposit. But wait, there is more. Starting from the next day after deposit, you`ll be credited 25 free spins for Champions Cup slot game. The next day, you`ll get another 25 spins to play. This will last for a week, making it 175 free spins in total. This bonus was specially designed, because of pure understanding that the true championship is not a thing for a day, but rather for a week.