Evolution Free Bet Blackjack and 2 Hand Casino Hold'em Out Now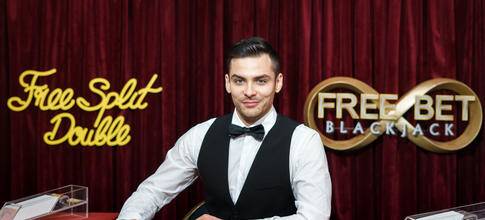 Evolution Gaming, a leading provider of live casino games, is pushing their portfolio of live dealer games further by just announcing two new games: Free Bet Blackjack and 2 Hand Casino Hold'em. The Live Blackjack and Poker tables are already available for play at featured Evolution casinos. Here's a short guide on what you need to know before play.
First, the Free Bet Blackjack joins Evolution's "Infinite" family of Live Blackjack games, offering unlimited seats. The game is also different from the rest for its automatic Free Bets on selected Double Down and Split bets. This applies to two-card hard 9, 10, 11 totals and all pairs except 10s. The reason they can offer all that is by pushing all winning hands when a dealer busts on 22, which is also clearly stated on the blackjack table with the fact that the dealer stands on soft 17.
Free Bet Blackjack also comes with four optional side bets — Any Pair, 21+3, Hot 3 and Bust It — and the Six Card Charlie rule. This adds a layer of fun to the game, unless you're following the basic strategy or worry too much about making the most out of the RTP.
The second new game available from June is the 2 Hand Casino Hold'em. This new game puts a simple twist on the casino classic by allowing players to play two separate hands at the same time.
This new live poker game is played with a deck of 52 cards and with an aim of getting a better 5-card poker hand than the dealer. The dealer qualifies with a pair of 4s or better.
Before any cards are dealt, players must put an ante bet to join the game, with an optional AA Bonus bet, which is independent of the main ante bet and pays if you have a pair of Aces or better in your hand. After the flop, you decide how many hands you want to play if any, and place your bets accordingly. In a nutshell, it's a good old classic game in a newly designed studio and "double" the fun.
Todd Haushalter, Chief Product Officer at Evolution, commented: "In 2 Hand Casino Hold'em, meanwhile, two hands for every player means a doubly entertaining experience with increased fun, betting options and chances to win. If the player loses their hand in standard poker then the game is over. With two hands, however, the fun and the suspense keep on coming!"
Visit our complete list of Evolution online casinos to pick your favourite.