Reactoonz 2 – Play'n GO's Revamped Grid Slot Out on October 1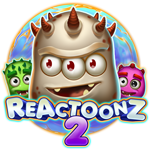 Play'n Go has announced a sequel to their highly popular grid slot – Reactoonz 2! Coming to online casinos on Thursday, October 1, 2020, the revamped version of the 2017 hit slot will include new features and old favourites which can generate wins of up to 5,083x. Let's take a closer look at what the upcoming game has to offer.
As we'd expect with sequels, Reactoonz 2 is not a significant departure from the original 7x7 grid slot with cascading symbols. The look and feel are pretty much the same, except minor tweaks here and there which will be taken for granted unless you're a big fan. There are, however, new features which can alter the course of the game significantly. Although the sequel is technically just as hypnotic or visually complex, it may be easier to follow thanks to a few advancements. This includes the Fluctometer, which has replaced the more random features.
Unlike regular slots, grid slots like Reactoonz don't have pay-lines. Instead, players need five or more symbols touching horizontally or vertically to create wins. As you form winning clusters, they explode, thus potentially creating an avalanche or back-to-back wins.
Specific wins can also create Wild icons and feed the new Fluctometer, which can drop another 1-3 Electric Wild symbols. Get two charged Electric Wilds adjacent to each other to create a Wild Pair Explosion that will destroy all standard symbols. These and non-Wild symbols which are removed from the grid by an Electric Wild during gameplay, in turn, charge up the Quantumeter. This meter has four levels, which determine which special wild symbols will be released.
Level 1 – unleashes four 1x1 Energoon Wilds
Level 2 – unleashes a 2x2 Energoon Wild
Level 3 – unleashes 3x3 Gargantoon Wild
Level 4 – adds x2 multiplier, including Gargantoon Wild.
All that is better to experience for yourself. Complex as it sounds, you'll get the hang of it quickly. Technically speaking, the volatility hasn't changed much and is rated as high or 8 out of 10. Reactoonz 2 will be available with different RTPs depending where you play, with the highest possible being 96.20%.
All in all, players who have been enjoying the up-tempo gameplay of the Reactoonz slot should enjoy the "expansion pack" with slight modifications that the second release will bring. In a way, the sequel is more organised and easier to follow, but just as wild and entertaining as the first one. Both games certainly don't exclude each other, which is why you should keep an eye on Play'n GO casinos and any promotions that are likely to be featured on the launch week!