Lucky Player Wins Ultimate Power Jackpot on New Age of the Gods Roulette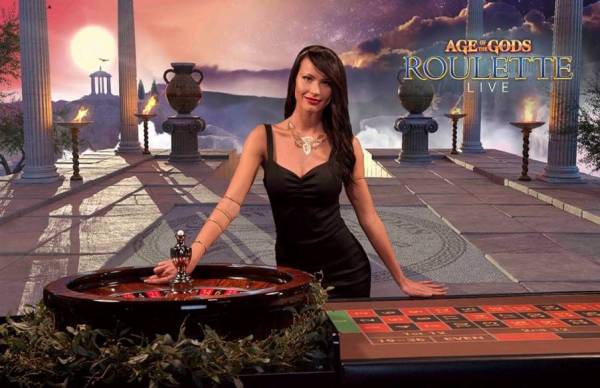 At Playtech, things move so quickly that one week they release a new jackpot game and then just a couple weeks later it pays more than £1 million in total rewards. But the biggest surprise came on the 19th October, when one lucky winner hit the largest ever Omni-channel jackpot and claimed much of that amount while playing the Age of the Gods Live Roulette at Casino.com.
While Age of the Gods is not a brand-new series of games in the developer's ever-growing list of branded games, the Live Roulette came out on 27th September 2017. This includes the 4-tiered Age of the Gods Mystery Jackpot, which the anonymous factory worker and a father of three children was fortunate to win on his mobile just two weeks later.
The huge £599,380.45 amount was triggered at Casino.com when he was at home relaxing after a night shift. Here are the player's emotions: "I was crying when I saw the big jackpot amount hit my account and I was in total shock. I have three children and this jackpot will change my life. I'm so happy!"
Since it was triggered live, Playtech also has a recording of the exact moment the jackpot was triggered, including the dealer's reaction. Watch close to £600,000 being hit on the slot on YouTube.
Here's a comment from Shelly Suter-Hadad, COO and Managing Director, Mansion: "Here at Casino.com we love making dreams come true – so seeing one our players hit such a huge jackpot is incredible! We strive to constantly be innovative and take a conscious decision to deliver a mobile-first approach, so we are delighted to see a record-breaking win on mobile. We hope to see many more of our players enjoy the same great experience in our casino."
As mentioned in the previous article about the game release, there are four additional prizes to be won aside from the standard roulette stakes. These are Power, Extra Power, Super Power and Ultimate Power Jackpots. And unlike traditional RNG or live dealer roulette tables, 1% of the total bet is added to player's total stake, which then goes towards the four-tier progressive prize. And just like the Age of the Gods slots series, the jackpots can be won on any spin!
Here's a word from Shimon Akad, COO of Playtech: "We continue to drive innovation and our new Age of the Gods Live roulette product is testament to that with the product becoming an instant success."
"We're thrilled to see such a big win and we will undoubtedly see even more in the days, weeks, and months to come due to the unique and industry-leading Omni-channel Playtech ONE progressive jackpot network we have across both Live and Casino," he added.
That being said, have you tried Playtech's new live roulette yet? How do you like the jackpot concept on a table game? Leave your thoughts below.