Platinum Play gave out €200,000 in less than a fort night; let them take care of your bucket list
In the past two weeks, Platinum Play casino has paid out more than €50,000 to 3 individuals and more than €28,000 to one more players, these totals to more than €200,000. This is in winnings made from playing Microgaming non-progressive slot games.
Allow me to take you on a journey of these slot games that paid out massively.
​
Bars and Stripes
Ambrosio F was the lucky player who bagged €60,125 from the Bars and Stripes Microgaming slot at Platinum Play. Bars and Stripes is a non-progressive game which makes it even harder for one to cash in more than €60k. On the other hand, the casino has a jackpot of €50k which is one factor that made Ambrosia make such huge winnings. Bars and Stripes is based on American culture. It was developed to celebrate America. Bars and stripes has 25 paylines and 5 reels.
Mayan Princess
Jamie M was lucky to win €58,233 as he played Mayan Princess which is another of Microgaming's Slot. Winning this much at Mayan Princess is rare as well. The maximum on jackpot money on the slots is €10,000. How did Jamie make it to win this much? It could have been through the games other special features like the wild symbols, free spins, bonus game or multipliers.
Happy New Year
It's a New Year and was a happy one for Rocco N who took home €56,493 by playing Happy New Year slot. This is not a progressive Microgaming slot. But the game comes along with a rewarding bonus of €60,000. The game is built on New Year in China which makes the symbols and sounds of Chinese theme.
Shoot
Rafael M was another lucky winner after banking €28,476 enjoying the shoot slot which is a game available at Platinum Play by Microgaming. The slot is football-themed which has a jackpot fixed at €20,000 coupled with a triple bonus with other rewarding features in play. The game is of great interest to football fans which I believe Rafael is. It has in it some of the world's renowned stars in the world of football like Maradona, Gullit and Pele.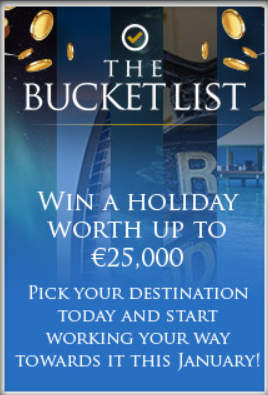 Your Bucket List with Platinum Play
Platinum Play casino is running a New Year promotion which is running from 5th January, 2015 to 9th February 2015. The officials at Platinum Play have come up with 5 Bucket List destinations. Each destination package is worth a whooping €25,000.
How will you win the Bucket List destination?
Click on the pick your destination tab, go through the 5 selections and click on pick me button below the bucket list destination you wish. After selecting on your favourable destination, every credit you play at Platinum Play will assist in securing a stay at the bucket list destination of your choice.
Platinum Play should be your preferred casino when it comes to bagging the right promotional gifts. Be sure to watch out on new promotions they might be having. As you can see, their slots are equally rewarding, try your hand in any of them and you might be treated to a big win.