Omni Casino progressive Jackpot just got better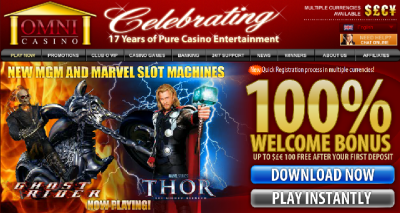 Omni Casino has made an announcement that their ultimate power jackpot just surpassed the one million mark. This is a progressive jackpot that is on Marvel slot games. One this that's good with the Marvel Progressive would be that it does not have maximum wagers. More to it is that the jackpots can be randomly triggered. There are 4 tiers in the Marvel Slots jackpot. This means that if you do not land on the huge one, there are others you could win.
The current jackpot lies at about $1,075,600. This is the highest amount that has been in two years. The previous highest win has been $1,011,729 which was five months ago. The jackpot has been noted to increase at about 16,000 credits in a day and is still expected to get more even faster as more and more players get to register at Omni Casino.
All slots under the Marvel label have been linked to the progressive jackpot which makes it possible for it to get even more. This makes it possible for more players to have a chance of hitting the jackpot. If you have any of the Marvel slots as your favourite, then you have better chances of hitting the jackpot if you persistently play the slot.
The Iron Man 2 Slot
One of the top slots at Omni Casino is Iron Man 2; a slot based on the marvel super hero movie. Some of the characters you will come across in the slot include the American Eagle Logo, Tony Shark, Ivan Vanko and Natalie Rushman. The wild symbol in the game is represented by the American Eagle Logo; this symbol offers the highest line payout. In an exciting bonus game, the Iron Man 2 logo will award you with 10 free spins.
The multiplier in the game starts awarding lucky players at two times and with every 2 spins you get, you will get a standard high by one. On the free spins, the wild symbol will appear on the middle row of the middle reel and will remains fixed. This is a wonderful creation by Playtech. In the game you'll realize that there are six different kinds of Iron Man 2 symbols and each symbol is stacked in twos on the reels. The reason why the symbols are different from the other stacked symbols we are used to is that a single image occupies two rows. When it's time for payout, the stacked symbols are considered as two different symbols.
Other Marvel slots at Omni Casino include Thor, Avengers and the Ghost Rider among many more. Are you interested in a bigger jackpot? Try out Beach life which is currently at $3.8 million.
Omni Casino is one interesting place where you could be rewarded in thousands of dollar if you played smart, and worked well with your gaming budget.