New Live Game by Playtech - The Greatest Cards Show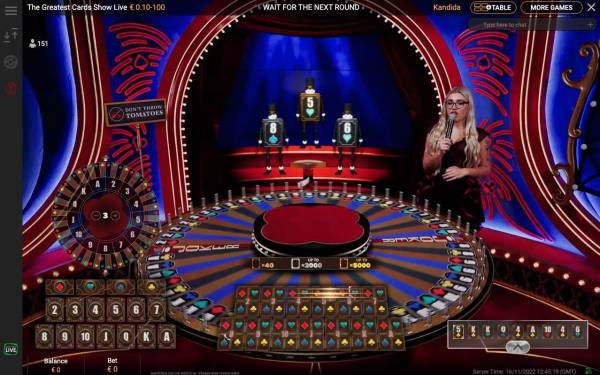 Playtech Live just launched a new live wheel game show with interactive bonuses. This time, however, the wheel is horizontal, like in roulette, and instead of numbers, the game is all about playing cards – hence the name, The Greatest Cards Show. That includes the Joker, which will activate the main feature from a total of three for a maximum award of 5,000x bet per bonus round. The card game show has been available to play at select Playtech Live casinos for a couple of weeks now, and here's all you need to know in a nutshell.
Like most live game shows, The Greatest Cards Show is aimed at entertainment, featuring a chatty host with a big horizontal wheel in the middle of the screen with 54 sectors. On the wheel, you'll see two Joker sectors that trigger the main bonus, and card values that go from 2 to Ace, each with four suits. Bets range between 0.1—100 credits, for which you can win 39:1 per sector or one of three bonus rounds. To place a bet, players must wager on a minimum of one number and a suit.
Before the host spins the wheel, random numbers become silver or gold, representing the two additional bonuses that can be won in this game. Unlike Pragmatic's PowerUP Roulette, players must have an active bet on the winning number to qualify for one of two bonus games, with the only exception being the Joker round.
Spotlight Bonus – triggered with a silver card. Pays between 50x and 2,000x by randomly picking one of three spotlights.
Lightshow Bonus – triggered with a gold card. Choose a green, yellow, or blue lightbulb to win between 50x and 5,000x bet.
Joker's Bonus Game – triggers with a Joker sector. Activates a duel between four cards who juggle and do magic to beat their opponent for the first prize. There are three pole positions with multipliers as awards that go up to 1,000x. Pick one of four cards and watch the show unfold in three duels.
In a rare case when Jokers win on consecutive spins, the bonus multipliers will increase by 2x up to 8x. The overall RTP of the game is 96.67%, which is in the same ballpark as other live casino game shows, such as Adventures Beyond Wonderland (96.82%), and Spin A Win (97.22%).
Overall, despite its complexity, The Greatest Cards Show Live is an easy-to-play live game show. Everything about it is premium - the animations, studio elements, and hosts are all world-class. With a section win multiplier being less than available sections to bet on, and with no other betting configurations available, we'd recommend betting on parts of the wheel by covering multiple numbers and all of their suits for a greater chance of being included in all of the bonuses with generous multipliers.