NetEnt's Mega Fortune Slots Pay Over €6.7 in Jackpots on Same Day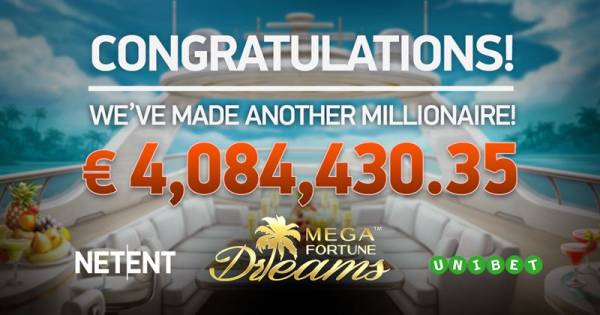 One of the world's leading iGaming companies, NetEnt, has mouth-watering news for all slot junkies. It's now officially confirmed that two of its most popular progressive jackpot video slots have broken loose and paid out over €6.7 million to two lucky players in just 24 hours. If you believe in conspiracy, then all this will definitely add more fuel to the fire!
So, it all began a week ago, when NetEnt reported of their €4,084,430.35 jackpot trigger on the more deluxe 20-liner, Mega Fortune Dreams slot. It was triggered by a Sweden-based player at Unibet, which is one of Kindred's flagship casinos, on 7th March 2018.
Little did they know that less than 24 hours later another incredibly lucky player from the UK will also convert his €1 bet per spin into an equally massive €2,667,743.19 progressive prize. This time, it happened on Mega Fortune and at PokerStars Casino, which thereafter celebrated their biggest payout to date.
The anonymous player also shared some of their emotions saying: "I put my hand over [the screen] because I thought, 'I've got no chance of winning this, I want it to be a surprise'. It spun. When I took my hand away and saw what happened… I almost passed out. No this can't be real."
Unfortunately, NetEnt doesn't share their live win moments in the form of YouTube videos like Yggdrasil for instance. But in case you wonder, the Mega Jackpots can be triggered in the same way via the game's fortune wheel that can only be triggered with Bonus symbols. Remember, that even if you don't reach the middle for the grand prize, there's still a chance to trigger the Rapid or Major Jackpot, in both slots.
That said, here's what Henrik Fagerlund, Chief Product Officer of NetEnt, has to add: "The jackpots just keep on dropping at the moment and two in one day is a record for us [you bet it is!]. The big and frequent wins are of course why players love NetEnt jackpot games so much. I would like to congratulate The Stars Group, and PokerStars Casino for what is their biggest ever online-win payout!"
This is NetEnt's third multi-million euro jackpot in 2018 after one lucky player won €2,553,604.67 playing Mega Fortune in January, creating SlotsMillion's first-ever millionaire. Currently, both jackpots are below the million mark and therefore relatively cold for a re-trigger. So, instead see their Halls of Gods slot, which is now approaching €6 million and is about to create their fourth major winner for the year!
That said, have you had any luck with the Mega Fortune slots yet? What's your biggest win so far? Share your story with us in the comments below.