NetEnt and Microgaming Pay Over €15 Million in Jackpot Wins in 2 Weeks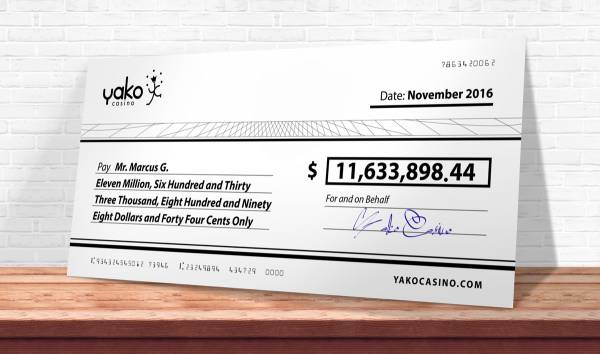 Mega Moolah and Mega Fortune are known to be the industry's most popular progressive jackpot slots. Their jackpots pay on average €4-5 million, every 12-8 weeks. And with the boiling point being around those marks, it was about time someone became a millionaire, especially that the Mega Moolah prize pool was already beyond €10 million. Let's see what exactly happened during the two weeks next.
First of all, both the Canadian player and Yako Casino (powered by EveryMatrix) couldn't believe their eyes when the Mega Moolah Mega Jackpot finally triggered at exactly $11,633,898.44. The lucky winner, Marcus Goodwin, didn't want to remain anonymous and even posted a video to show how excited he is to win the life-changing amount.
Here's some of his words: "Wow thank you so much! This is obviously life changing! I cannot believe it! I will definitely be buying a nice big house and a vacation cottage! And taking my entire family on a first class trip to Africa! This will mean great Christmas presents for everyone!"
The win was triggered between 4th and 5th November, when the random Jackpot Wheel bonus finally came up on the screen and landed on the Mega Jackpot sector. How much this young player was betting is unknown, as the more you bet the better the chances to trigger the grand prize.
That said, NetEnt and its second most popular progressive jackpot slot Mega Fortune Dreams has had a hell of a ride as well. The news came from the Maria casino, which announced a 62-year-old jackpot winner on 18th November.
The player decided to remain anonymous with the €4,019,671 jackpot in the pocket, but had this to say: "A lot was going through my mind, but I think I just managed to get an ''OH'' out of me. Now I will take care of the most important thing, which is my family. They have been an enormously supportive for me throughout the years so this is my time to give back."
The aforementioned jackpots are already climbing to new high levels and are up for grabs at most renowned online casinos. That in mind, someone already won another €5.6 million on the Mega Moolah slot a week ago, which we should hear more about very soon.
Tell us how lucky you've been with the games and do you even have them in your games arsenal? Leave a quick comment below.