Lucky Player Hits €6m Mega Fortune Jackpot and Gets €650,000 Mega Million Bonus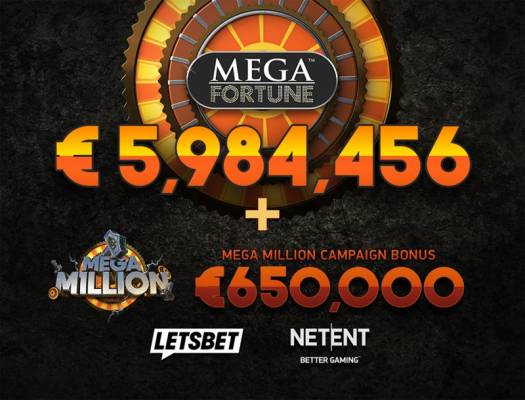 Ever since NetEnt launched their Mega Million campaign in June, triggering a mega jackpot on their hit games Hall of Gods and Mega Fortune became that much more juicier. In fact, the developer claimed to add another €350,000 and €650,000 to anyone who hits a mega jackpot on any of these games, respectively. The time has come to crown the second lucky player who dwarfed all other recent wins with a mega hit worth €5,984,456 (SEK 61,415,649)!
The jaw-dropping prize of the iconic Mega Fortune slot dropped on July 20, which is also the biggest since December 2016, when the lady luck was with a player from Britain. This time, the winner is a 27-year-old Swede, who made a choice to play at the new LetsBet Casino. Three hours in and he finally got to the centre of the Bonus wheel with a grand prize of close to €6 million, to which NetEnt added that additional share which is alone worth a fortune.
Here's what happened in the winner's own words: "I was on vacation and just felt like playing a bit. I am not sure yet what I will use the winnings for, apart from sharing it with my closest ones and perhaps some more vacation." Since there's no word about his bet size, it's likely to be higher than average.
By now, both the Hall of Gods and Mega Fortune jackpots are gone with their corresponding bonus prizes which were part of the FIFA World Cup campaign. The first lucky winner was from Finland, who won a whopping €2.75 million playing the Vikings-themed slot on Paf.com. This makes for a total of nine NetEnt millionaires this year alone, following other major hits of €1.4m and €4.25m that were paid out to players via NetEnt's Arabian Nights and Mega Fortune Dreams months earlier.
Henrik Fagerlund, NetEnt Chief Product Officer, said: "Mega Million has been a huge success and we are thrilled that the final whistle has blown on our World Cup-themed campaign with the biggest Mega Fortune jackpot winner for two years. "It is also further proof that NetEnt games are regular millionaire-makers, with this being the ninth seven-figure jackpot winner in 2018."
Worry not, however, because all eyes are now on Microgaming's Mega Moolah slots. The jackpot for these classics has climbed well beyond the boiling point and currently sits at €9 million!
Feel free to browse all featured NetEnt and Microgaming casinos and filter them by ranking, popularity and more to find a proper casino for your taste.