Evolution Launches 80's Themed Side Bet City Live Poker Game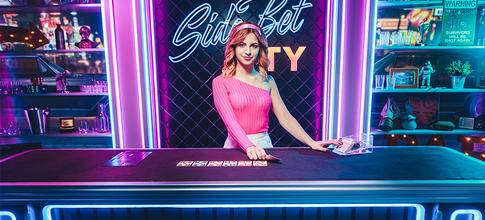 Evolution Gaming continues to introduce new live table games and this time around it's all about an easy poker game wrapped in the 80's theme. It's called Side Bet City, a fast-paced poker game designed to be played not against the dealer but against a paytable for an unlimited number of online players. Here's a sneak peek at how the game plays and what it has to offer in terms of payouts.
Set in a stage with bright neon lights for an authentic late-night, big-city buzz, Side Bet City is played with a chatty live dealer and with a deck of 52 playing cards that are fully shuffled after each round. Very simple in nature, the idea is to bet on a 3 Card Hand, 5 Card Hand or 7 Card Hand (the best 5 card hand wins), or on the All Lose option (no winning hand). There are no decisions needed by the player after placing their chosen bets, so even if you've never played poker before, you won't be in a disadvantage.
Bets start from just 0.50 credits and go up all the way to 250 credits. Because the game is all about side bets, the RTPs are naturally lower than in traditional poker tables which is about 99%. In Side Bet City, placing the 3 Card Bet makes for the highest RTP of 96.69%, whereas the 5 and 7 Card Hands have an RTP of 95.21% and 94.34%, respectively. The All Lose RTP is 96.29%, which makes for a potentially good "insurance bet".
When it comes to the paytable stats then the returns are highest for the 5 Card Hand, paying up to 1,000:1 for Royal Flush versus 100:1 and 500:1 for the same outcome when playing the 3 or 7 Card Hand. The All Lose bet pays 0.70:1.
With that being said, here's what Evolution's Chief Product Officer Todd Haushalter had to say: "We feel the game will attract the widest range of players with the way the game plays out. Players new to poker will love it because it's an easy and entertaining introduction to the game. More experienced poker players, meanwhile, will also find the game huge fun because it presents a different kind of poker challenge and also because there are big payouts on offer of up to 1000 to 1."
If you want to try the new Evolution Side Bet City game then head over to our Evolution casinos page where you can pick the one to your liking based on our latest reviews, ratings, bonuses and more.