Branching Out: Discover Evolution's Prosperity Tree Baccarat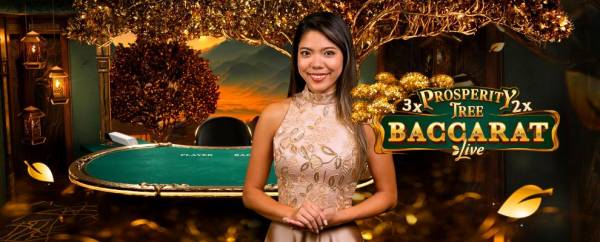 Baccarat, a game of elegance and strategy, has long been a favourite among casino enthusiasts. Evolution, a pioneer in the live casino gaming industry, has introduced a fresh variation of this classic game, aptly named Prosperity Tree Baccarat. This live croupier game offers not only the thrill of traditional baccarat but also the allure of multiplied winnings, albeit with player-friendlier volatility than its predecessors.
A Majestic Setting
The game unfolds in a sophisticated, zen-like studio adorned with dark green and gold hues. Dominating the backdrop is a majestic golden tree, symbolizing prosperity and wealth. This isn't just any tree; it's the Prosperity Tree. From its branches, special cards fall, brought to life through augmented reality animations.
Gameplay: Classic Baccarat with a Prosperous Twist
At its core, Prosperity Tree Baccarat retains the essence of traditional baccarat. Players aim to get a hand closest to nine while choosing from the following main and side bets with the corresponding payouts:
Player: 1:1 up to 27:1 (RTP 98.89%)
Banker: 0.95:1 up to 27:1 (including 5% commission)
Tie: 5:1 up to 3,645:1 with (up to €500,000)
Player Pair: 10:1 up to 90:1
Banker Pair: 10:1 up to 90:1.
In each game round, eight cards from a 52-card deck are randomly chosen as Prosperity Cards. These cards carry multipliers of either 2x or 3x. If a player's hand matches a Prosperity Card, that hand receives the associated multiplier. Winning a hand with one or more Prosperity Cards means the player's winnings are multiplied accordingly. Just like in Lightning Baccarat or Golden Wealth Baccarat, a 20% fee is applied to each player's total bet, which is displayed in the user interface.
Differences Between Lightning Baccarat and Golden Wealth Baccarat
The most significant difference between these three live baccarat games with multipliers is the payout structure, especially concerning the multipliers. In Prosperity Tree Baccarat, multipliers are limited to 2x and 3x, while in Lightning Baccarat and Golden Wealth Baccarat, they can reach up to 8x.
What sets Prosperity Tree Baccarat apart is the guarantee of eight random Prosperity Cards in every game round, ensuring more frequent multiplier wins compared to the five special cards drawn in the other two games (2x, 3x, 4x, 5x, or 8x).
In essence, this new Evolution live casino game can be seen as the least volatile of the trio. Only time will tell if it gains popularity, but given the attention to detail, it seems more than just a simple A/B test—it's genuinely appealing for those seeking a tranquil gaming experience. See it for yourself at one of the Evolution-supplied online casinos.
Xxxtreme Version Coming Soon
For players seeking more thrill, the upcoming Xxxtreme Lightning Baccarat is worth a look. Here, multipliers can soar up to 10x, with the maximum win for Player or Banker being 10,000x and a Tie having a potential payout of 2,850,000:1. However, it's worth noting that the fee will also be supercharged, coming in at a hefty 50%. This is by far the highest of any legitimate multiplier live table game. Stay tuned for more on this game!
P.S. Today is also the launch day of the new Lightning Lotto!