The Legend Continues – What to Expect from Gonzo's Treasure Map Live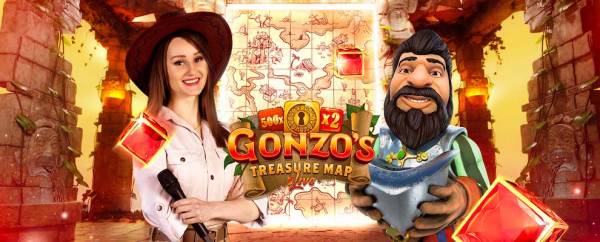 We are back with another Evolution game update. The newly launched Gonzo's Treasure Map Live is a revamped version of their previous game show, Gonzo's Treasure Hunt, which is now discontinued. It features the same high-quality game studio production and animated imagery inspired by Netent's slot character, Gonzo, but has been optimised to give it a broader appeal. At least that's the premise with new games, right?
What is Gonzo's Treasure Map Live?
Gonzo's Treasure Map Live is a live-presented RNG game show centred around a 70-grid map, which is seven columns wide and ten squares deep, just like before.
The game's primary objective is to place a wager on one or more squares, hoping that one or more stone blocks dropped from the top land on a square where you've placed a bet. If this happens, you win a minimum of 10x your bet. Three of the squares contain Gonzo Key Stones. If one of these is landed on, it triggers the bonus round, where players can achieve multiplier wins of 1,000x and perhaps even more.
How to Play Gonzo's Treasure Map Live?
Betting time – Players place their bets on the Treasure Map grid. There are 70 spots available for betting, with no restrictions on the number of bets a player can place during the allotted 18 seconds. Tip: betting on each row will increase the chances of hitting the bonus. Also, keep in mind that the theoretical RTP for Gonzo's Treasure Map is only between 95.10% and 95.26%. For reference, Dead or Alive Saloon has an RTP of 97%.
Prize drop – After betting time closes, the Treasure map dissolves to reveal the location of the three Gonzo Key Stones. Five golden blocks worth 10x or 20x, if it's a multiplier block, are positioned over the grid before dropping down and stopping on tiles, multiplying it accordingly. If a Gonzo Key Stone is selected, the bonus round is triggered.
The bonus round – This round is initiated when one of the Golden or x2 multiplier blocks drops onto one of the Gonzo Key Stones. The treasure map rotates to reveal a 10 x 7 grid containing a mix of boosted multiplier prizes: 25x, 50x, 75x, 100x, 150x, 200x, 500x, and x2. A Ruby block slides across the top of the map, stopping on one column and then settling on one of the prize squares below. If it happens to be a x2 stone, all the multipliers on the wall will double and the Ruby will drop once again.
The maximum payout without multiplier boosters applied is 500x on the bonus round. However, this can be increased by the 2x multiplier blocks in the base game and the 2x Roby blocks during the bonus round. That's a far cry from their new Lightning Lotto though.
Where to Play?
Gonzo's Treasure Map Live can be found in the live casino lobby of online casinos offering Evolution Live Games. Although the game is RNG-based, the presence of a presenter categorizes it as a live game, making it available in the live lobby.
In conclusion, Gonzo's Treasure Map Live is a welcomed update to a release that hasn't gained much traction with players thus far. Let's see if this simplified version will gather more momentum than its Treasure Hunt predecessor from 2021. Should the new Gonzo live game be too slow or boring for your taste, check out Playtech's recent release called Jumanji The Bonus Level, which has no less than 7 bonuses!