Playtech Live Casino adds Quantum Roulette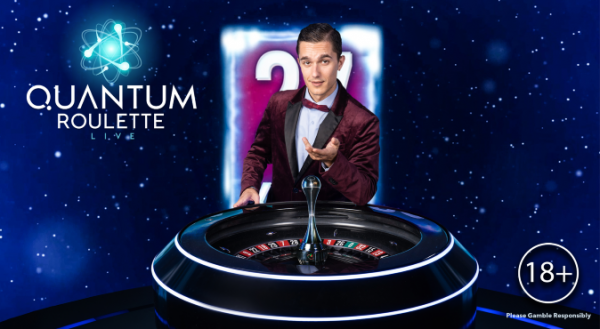 Playtech continues to excite live casino players with the launch of a new roulette table called Quantum Roulette. This double-o-seven sounding game promises to enrich regular roulette experience with a highly immersive atmosphere created by visuals, sound and dealer presentation. The game is out now at licensed Playtech casinos.
The company's third new live game of this year follows the same rules and betting options as Single Zero Roulette. However, just like with Evolution Gaming's award-winning Lightning Roulette (which is now also available in the RNG version), Quantum Roulette features multipliers on certain "Straight Up" positions in every game round, adding up to five multipliers from 50x to 500x every round!
Playtech decided to step it up by adding one more special event, which they called the Quantum Boost. It's completely random and when enabled will enhance some or all the multipliers even more, creating even bigger win potential and anticipation.
The overall experience is unlike any other roulette as vivid Tron-like blue neon stripes and atomic particle simulations during multiplier reveal moments can make you feel like you're a part of a show. Improving on a popular variation of the live roulette show is a smart tactic by Playtech and a great addition to other releases of 2019, like American Roulette, Hi-Lo Club, Spread-Bet Roulette, Dragon Jackpot Baccarat and Casino Stud Poker, which you can read more about in August news.
Kevin Kilminster, Head of Innovation for Live Casino, Playtech, comments: "Playtech Live's focus on an experience-led offering, both from a gameplay and presentation perspective, is central to what makes us stand out in the industry. Along with our other major new releases this year, Quantum Roulette has been designed to deliver on visuals and entertainment alike. We've already seen players win up to 500x their stake and we're confident that the immersive feel and lively gameplay of Quantum Roulette will hold great appeal for the modern generation of Live Casino players".
Visit our Playtech casino section to browse curated sites with rating and reviews to try out the new live croupier games.