Monopoly Live Money Wheel by Evolution Out Now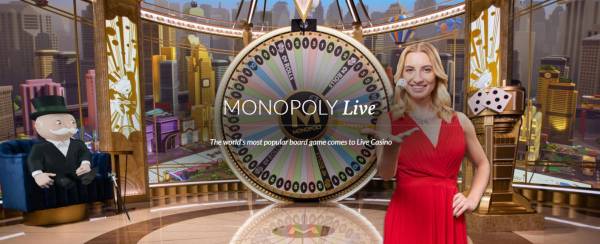 Evolution Gaming debuted 10 new live games at the start of this year and one of them, Monopoly Live: Dream Catcher Edition, is among the few that's finally here. So, if you don't mind putting a twist on your live gaming or are a fan of the classic Dream Catcher, then you can now try your luck on this one 24/7. Here's what you should know.
Monopoly Live has been available in the early release stage at select few casinos like LeoVegas and Casumo for a few days now, and will start rolling out across other Evolution-powered online casinos in the coming days. In essence, the game combines both their popular money wheel and the good old Monopoly board game.
Created in partnership with Hasbro, the Monopoly edition is hosted by not one but two hosts, one of whom is the virtual Mr. Monopoly, flipping his cane on a couch beside the money wheel. To start playing, simply bet of where you think the wheel will stop: 1, 2, 5, 10, "2 ROLLS" or "4 ROLLS". The higher the number, the higher the payout. All other sectors like "CHANCE" or "ROLLS" are a part of the Monopoly game.
Landing on "CHANCE" will get you a random cash prize or a random multiplier bonus, which can be triggered many times for supersized wins. The best part is when you land on either of the "ROLLS", which then activates a 3D bonus.
The Monopoly Live Bonus happens on an actual board game featuring Mr. Monopoly. There you'll be rolling the dice for win multipliers that are progressively placed on the board. The best you can do is 500x your win when you land on Mayfair!
So, what's the best strategy in this live game? The 1 and 2 sectors are the easiest to get, so you can bet on those with less risk. However, the biggest prizes are locked away in the bonus, so you got to be betting on either of the "ROLLS" for a chance of winning any of the jackpots.
That said, if you're looking for something simpler and more engaging than roulette then you'll likely to have fun with Monopoly Live, also given the advanced AR animations and chatty hosts. And don't worry, if English is not your first language then the Monolopy board also comes in German and Italian.
Finally, if you like the Money Wheel then stay tuned for Evolution's second branded game of the year, Deal or No Deal, which will launch on LeoVegas and other premium casinos during May!