First-Ever Live Craps Now Available at Evolution Casinos Online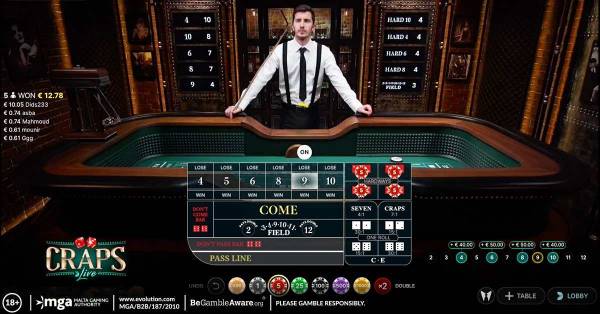 Evolution Gaming has pulled off yet another treat for live casino fans – it's an online version of the ever-popular dice game Craps. Set in their custom-built speakeasy studio, the first-ever online game of its kind features built-in tools that will help even novices feel at ease with the game mechanics and rules. See below for a quick overview or give it a shot in either Live or the First Person format at one of the selected Evolution online casinos today.
The game of Craps may not be the easiest of casino games, but certainly one of the most popular in Las Vegas. Evolution's version which you can play online doesn't depart much from the land-based and includes some of the most popular features and bets. Players who have never played this casino dice game can make use of the studio's interactive built-in Craps tutorial, which will explain how to play and the differences in bets. Novices should also consider enabling Easy Mode, which changes the user Interface and eliminates some betspots.
The shooting of the dice is semi-automated and performed by a robot and a host. All you have to do is bet on the outcome of the two dice. Evolution Live Craps bet types include One roll and Multi-roll bets. As the name implies, One roll bets are only valid for one roll of the dice, and will always be resolved after each throw of the dice. One roll bets include the following:
Field bet – bet on 2, 3, 4, 9, 10, 11 or 12 and if it comes out you'll win 1:1 or 2:1 for rolls 2 and 12.
Seven – if a 7 is rolled, you'll win 4:1.
Craps 2 – if a 2 is rolled, you'll win 30:1.
Craps 3 – if a 3 is rolled, you'll win 15:1.
Craps 12 – if 12 is rolled, you'll win 30:1.
Craps – if either 2, 3 or 12 is rolled, you'll win 7:1.
Eleven – pays 15:1 if 11 is rolled.
C – E – if 2, 3, 12 or 11 is rolled, you win 3:1 or 7:1.
In the case of all these One roll bets, if the two dice don't roll the number or the combination, you will lose your bet. Multi-roll bets, on the other hand, may need any number of rolls before the bet is resolved. These include Hardways, where 4, 6, 8 or 10 must be rolled with a pair.
To start, place a bet on the Pass Line. You will win if the result is 7 or 11, and lose if the result is 2, 3 or 12. If a 4, 5, 6, 8, 9 or 10 is rolled, the game will progress from the Come Out Roll to the Point Roll. Players will once again win if the Point Number is rolled and lose if a 7 is rolled. During the Point Roll, the game will accept Odds, Multi-roll or One roll bets as well. See the tutorial for more details or when you're ready to take it a step further. Overall, it's a nice addition to Evolution's ever-growing portfolio of premium live games that we think will resonate well with their fans why not even first-time players.