New Video Slot: Frog Hunter - Out Now!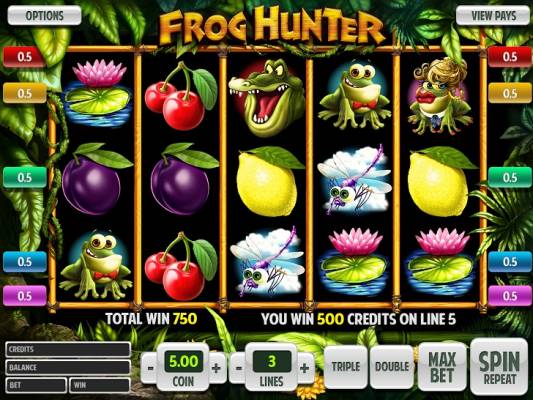 Looking for a new video slot? Here is one we think is quite exciting! It's called Frog Hunter and it is available at 7Red Casino right now!
Looking for a new video slot? Here is one we think is quite exciting available at 7Red Casino!
Do you feel like a hunter or simply just hunted? A frog in the jungle is probably both, right? Keep your frog safe from tropical rain forrest dangers like crocs. However, keep it close enough to the yummy dragonfly's. If you're lucky enough, you can win a water lily bonus and get the chance to reach your elusive female companion. When a dragonfly icon comes up to the left of the female frog, or to the right of the male frog or in between the two of them, get a 10, 15 or 25 credit bonus respectively. But wait, there's more - every dragonfly bonus gives you an opportunity to try and double or triple your win.
Frog Hunter, as the brand new video slot is called, is loaded with graphics and fun, yet it is uncomplicated and simple to play.
It is a 5-Reel, 5-line cascading reels video slot with bi-directional payout lines (the payout lines pay from right to left and left to right)
Bet 1 to 5 coins per line with coin sizes of 0.02, 0.05, 0.10, 0.25, 0.50, 1.00
Some of the feauteres are clean and uncomplicated screen with 5 lines only and olour-coded lines showing selection status
There is even more bonus features like the Water Lily Bonus!