Get Ready For Omni Casino's 13.5K Olympics Slot Tournament!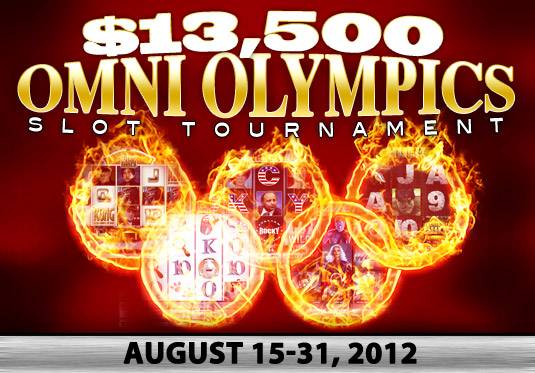 Now it is time to go for gold in Playtech powered Omni Casino's Olympics Slot Tournament and win your share of the $13,500 in Omni Casino Olympic Cash!
Are you ready to "Go for the Gold" at the Playtech powered Omni Casino? The $13.500 Omni Olympics Slot Tournament will be held exclusively at this casino from 15 August to 31 August, 2012.
You probably know the drill: It's a multi-level tournament that will cater to three "bet ranges" of slots wagering. Whether you are a low bettor or a high roller really doesn't matter, because you have a shot at winning a prize within different betting levels. With the lots more prizes paying out, now is your chance to win some Olympic Tournament cash!
But Omni Casino also has some new casino tournament features: the $100 Gold Medal Prizes. A special $100 prize will be awarded each leader board update to the player that gains gold by spinning the most new spin points since the last leaderboard update.
The tournament starts on 15 August, 2012, but your play between now and 14 August, 2012 will earn you a point boost for the tournament. So instead of 0 points at tournament start, you can have up to 2,500 spin points! Getting this points boost is very easy. Your total real money slot wagers made between now and 14 August 2012, will earn you the following: Wager between $5,000 and $14,999 and get 1,000 points, or wager between $15,000 and get 2,500 points. Omni Casino will notify you if you have earned a points boost before the start of the tournament.