Exciting Match Coupon Codes At Club World Casinos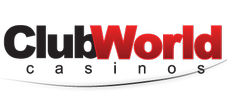 The holidays are nearly here, so what better way to get in the holiday spirit than by boosting your Club World Casino's bank roll by a massive $150!
This promotion is available between Thursday 21 November 2013 and Sunday 24 November 2013 with the coupone code RFAS150CWC150. Simply deposit $100 and get a $150 bonus. This code can be used once during the promotion.
And the bonuses aren't ending there at Club World Casinos. They are also offering you an all games bonus that can be used up to a maximum of 3 times! Use coupon code RPLA65CWC65 to get af 65% all games deposit match bonus here!
Please note that these promotion will begin Thursday 21st November 2013 and end at 23:59 EST Sunday 24th November 2013, and the offers are made subject to status. Please check the promotions button in the casino lobby for information on the coupons available to you.
For coupon code RPLA65CWC65, the deposit and the bonus must be wagered twenty-five (25) times before a cashout is permitted. The coupon code will allow you to play all games, however each game contributes different amounts towards the wagering requirement click HERE to view the wagering contribution for each game. This code can be used three (3) times during the promotion time frame.
For coupon code RFAS150CWC150, the deposit and the bonus has a fixed wagering requirement of $7500 before a cashout is permitted. This code is for use on slots only, and the code can be used one (1) time during the promotion time frame. Please ensure you also check the bonus policy on their terms of use page.
Check out our live review here: