Check out Dr. Jekyll & Mr. Hyde at 7Red Casino!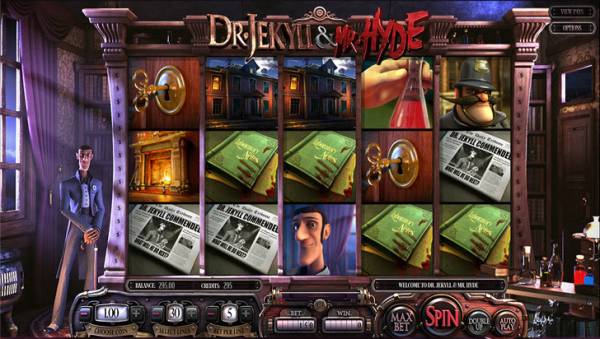 7 Red Casino's Dr. Jekyll and Mr. Hyde is a great online slot game, with something going on all the time. It's funny and serious all in one

!
I guess most of us loved Dr. Jekyll & Mr. Hyde from the moment we first see it. The 3D graphics are devastating –the best seen yet on any slots3. You just can't stop admiring the pewter and oakwood décor of Dr. Jekyll's residence and on top of that, every symbol is animated!
A 480,000 credit jackpot towers over Jekyll and Hyde's long list of payouts at 7Red Casino. 30 playlines of up to 5 coins a line and a coin value from 0.02 to 1.00 gives more than enough betting scope to fit your mood. There are 8 regular winning combination symbols giving wins from 25 to 6,000 coins for the maximum 5 coin line bet.
The exquisite atmosphere of 19th century London is uncannily realistic and Dr. Jekyll is, well, so British, you've just got to see him in action! He strolls around his study, sometimes finding a speck of dirt on his crisply ironed suit and flicking it off. At other times he observes his potions or drinks them and sometimes you'll catch him just rubbing his chin as he muses over his ideas. And he just loves it when you win, calling out 'tally-ho!'
Despite its origins as a horror story, Dr. Jekyll and Mr. Hyde is not a scary experience in its current guise – it's too much fun for that. The game will appeal to you if you love heavy duty bonus options, as it's packed with weird and wonderful bonuses and to be honest you need to be a bit of a Dr. Jekyll to remember all the detail. But even if you don't, who cares if bonus combo's keep coming up on the reels, and the winnings come rolling home?
The Jekyll and Hyde logo symbol transforms into Jekyll or Hyde whenever it can make a winning line for you. This is particularly helpful in getting a Dr. Jekyll bonus, triggered when Jekyll comes in between 2 red potion symbols. First, all Jekyll, Hyde and logo symbols turn into wilds, then all the symbols currently showing on the reels reorganize themselves into different positions and that can tot you up an nice winning combination.
Finally there's the Mr. Hyde bonus, triggered when Hyde comes in between 2 blue potions, getting for you a multiplier of 5 to 20 times your bet for the round – that's 750 to 3,000 when betting the maximum 150.