Club World Casinos Will Help You Find Your Slot Game!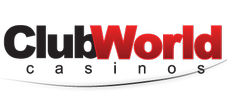 Between Monday 25 February 2013 and Wednesday 27 February 2013, Club World Casinos will help you find the right slot game for you!
It is time to find the right slot game for you! With over a 100 slots at Club World Casinos all with different themes and different feature games, you are bound to find the one for you! To help you find the slot game of your dreams you can use the below mentioned, fantastic slots offer!
Get a 80% SLOTS BONUS with coupon code: LOTSOFSLOTS. This code can be used 4 times per day during the promotion time frame. So if your loyal to only one particular slot or like to move from one slot to another, at Club World Casinos you have a great selection of slots to choose from. They are all waiting for you!
Please note the specific bonus terms and conditions of this offer: This promotion will begin today and end at 23:59 EST Wednesday, 27 February 2013. As this offer is made subject to status, please check the promotions button in the casino lobby for information on the coupons available to you. Your deposit and the bonus must be wagered (20) times before a cashout is allowed, and only wagers on slots are permitted before you have met this requirement. Please also check the bonus policy on their terms of use page.
Club World Casinos, the best bonuses all day, every day!
Check out our live review here: