Chocolate Day Promotion at Club World Casino!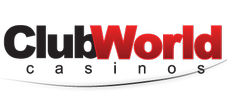 Club World Casino is running a special promotion at the casino for Chocolate Day giving you the opportunity to win a Golden Ticket. Check out bonus codes here!
Chocolate Day - WIN your Golden Ticket!
It is Chocolate Day and Club World Casino is going to melt your hearts by giving you the chance to win your Golden Ticket. One of these chocolate bars contains the Winning Ticket; however everyone can win this Golden Ticket.
Buy as many chocolate bars as you want by making a minimum deposit of $21! Each chocolate bar will also DOUBLE your deposit! The casino coupon codes are as follows:
CHOCBAR1, CHOCBAR2, CHOCBAR3, CHOCBAR4 and CHOCBAR5
The Winning Ticket will be announced on Monday, everyone who's got the winning ticket will WIN a $50 Free Bonus. The $50 Bonus will be credited in your account on Monday 9th July 2012! And as mentioned above the casino coupon codes are:
CHOCBAR1, CHOCBAR2, CHOCBAR3, CHOCBAR4 and CHOCBAR5
Good luck at Club World Casino:
Check out our live review here: